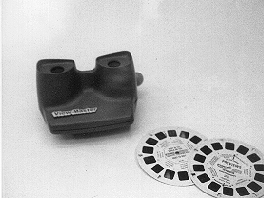 O4-54: VIEWMASTER
PURPOSE:Three-dimensional photographs.
DESCRIPTION:Look at the three-dimensional discs individually with the Viewmaster. Several sets of 3D photos are available, including a neat set of 3D bubble chamber photographs with documentation describing the reactions seen. If you're not into physics, there are some pictures of a baseball player, a mountaintop, Muppets, and Mickey Mouse.
SUGGESTIONS:
REFERENCES:(PIRA unknown.)
EQUIPMENT:Viewmaster with film rings.
SETUP TIME:None.
---