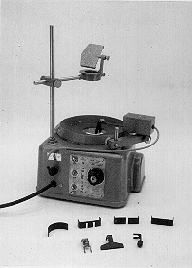 G4-01: RIPPLE TANK - PORTABLE
PURPOSE:To demonstrate ripple tank phenomena.
DESCRIPTION:This ripple tank is small and therefore convenient to move. It has its own built-in stroboscopic light source, and comes equipped with accessories as shown in the photograph. Experiments which can be carried out with this apparatu s include single slit diffraction, double slit interference, Huygens's principle, and diffraction around an obstacle.
SUGGESTIONS:This very small ripple tank is not recommended for Physics classrooms.
REFERENCES:(PIRA 3B50.00)
EQUIPMENT:Ripple tank with accessories.
SETUP TIME:None.
---